How We Chose the Best Electric Bikes?
Deciding to opt an Electric car or Bike would allow users to cut down drastically on the emissions created by burning fossil fuels. Electric bikes segment is growing faster than other segment of bicycles and that demand is good for you. Designs keep improving, tech is becoming more reliable, and capabilities are expanding. How we picked the best electric bikes? the answer to this question varies depending on the bike and category.  Some bikes, such as the Aventon, Rad Power Bikes, and Ride1 Up leapt out as obvious front-runners during testing. While others, like the Blix Aveny Skyline and Ride1UP 700 Series, were sleeper contenders chosen for very specific reasons. But in all cases, we evaluated the bikes based on a few key criteria, mainly explain below.
Components :-> Does it come with bags, racks, lights, fenders etc. and do you really need those accessories. Is there anything else that should be included but isn't?
Value :-> How much e-bike are you getting for your dollar? The e-bike market has grown fast with overpriced and under-spec'd electric bikes that don't offer much value. We need to check first, is it value for money?
Does it offer Something Special & Extras :-> In a market chock-full of options, what's unique about this bike that sets it apart from the competition? There are many categories of e-bike, particularly at the more affordable end of the spectrum that are flush with copycat brands and e-bikes that just aren't that special. We're looking for the ones that are.
How does it actually ride :-> The most important question, Does the e-bike ride well? Most of these e-bikes we know intimately through rigorous testing.
What does the manufacturer say it was built for :-> Last but not least,  what was this bike designed to do, and how well does it execute that purpose? Of course you can choose to use your bike however you'd like, but we want to make sure the e-bikes on this list function as advertised.
10 Best Electric Bikes in 2023 
1> Aventon Aventure 2 
Fat Tire Electric Bike
Price :>  USD 1,999
Range :>   Up To 60 Miles
Top Speed :>   28 MPH
Tires :>   4" Fat Tires
Motor Power :>  750W
Payload Capacity :>  400 lbs
Phone App :>  iOS, Android
 Bike Weight :>  

77lbs 
The newly-updated Aventon Aventure 2 electric fat bike truly is one of our favorite e-bikes since 2021. Aventon has been on a roll, with new models and revisions to existing platforms. The brand's update to its Aventure fat tire e-bike is no exception. At first glance, there are not many big visual differences between the original Aventure and this second-generation model. However, once outside, the small changes feel huge.
Compared to the original Aventure (on sale for 500), the Aventure 2 rides more smoother. The new torque sensor provide more control over the acceleration of Aventure's 750W rear hub motor, making the bike's ride more intuitive.
In addition to the new torque sensor, the Aventure 2 has an updated head unit interface, front light, integrated turn signals, fenders and rear rack.  Weight and components limit its functionality on single-track and for more aggressive mountain bike riding.
Pro's & Con's of Aventon Aventure 2
♦ Positives 
The motor is powerful and smooth and this is a surprisingly quick e-bike
Excellent performance and value
The new color LCD display head unit have bigger, brighter and shows battery life indicator
More responsive torque sensor and improved battery range on the newest model
This is a distinctive e-bike with a stylish look and does a great job of integrating the battery
Rack, fenders, and hydraulic disc brakes
♦ Negatives
The Aventure 2 improved version of Aventure 1 in small and large ways, but the Shimano Altus it now uses is technically a downgrade from the previously equipped Shimano Acera.
2> Rad Power Bikes Rad Runner Plus
| | |
| --- | --- |
| Price :>  USD 1,999 | Range :>   Up To 50 Miles |
| Top Speed :>  27 MPH | Tires :>   4" Fat Tires |
| Motor Power :>  750W | Payload Capacity :>  300 lbs |
| Phone App :>  iOS, Android | Bike Weight :> 77 lbs (with battery) |
The Rad-runner Plus segment exists between a small cargo e-bike and a peppy commuter. It's powered by a 750W brush less Rad Power Bikes geared hub motor and a 672Wh battery with 80 Nm of torque, 5:1 planetary gear reduction.  Actual power-to-ground wattage is under 750W to ensure e-bike regulatory compliance and depending on riding conditions. The twist throttle and the Runner Plus comes with a bench seat which is  mounted to the rear rack and fold able foot pegs that make it comfortable.
Its moped-style seat, small wheels, built-in rear rack and semi-ridiculous BMX handlebars give the Runner Plus a style that takes a little getting used to. But when you're on the bike, it all just makes sense. This e-bike handles quick despite its 74.3 lb heft, and its groovy frame design is actually functional. Rad-runner built booko accessory options that either attach to the rear pannier-style rack and they make a big tank-style box that fits between your legs.
It's our favorite e-bikes as well it feels hands down like one of the year's best electric bikes. We think the Rad-runner Plus is a striking option for anyone who looking for one bike that can do a little of everything.
Pro's & Con's of Rad Power Bikes Rad Runner Plus
♦ Positives
 The 750W hub motor provides the power to carry loads and get around quickly as well as conquer hills
This isn't an  heavy e-bike, the 672Wh battery provides plenty of range
Back lit LCD with charge indicator, speedometer, odometer, trip odometer, pedal assist level, watt-meter, and more
This e-bike that can serve well for commuting, errand running or just cruising for fun
The plenty of accessories that can be used to customize the RadRunner
20-in. wheels and a low-slung frame make this a very well-balanced bike that handles with easy
♦ Negatives
20-in. wheels, the mechanical disc brakes provide good stopping power, but hydraulic discs modulate better and would be more befitting of a "plus" model.
We will prefer to see a more traditional saddle which can rub the inside of the rider's thighs
3> Ride1UP 700 series
| | |
| --- | --- |
| Price :>  USD 1,295 | Range :>   Up To 50 Miles |
| Top Speed :>   28 MPH | Tires :>   2.4" Fat Tires |
| Motor Power :>  750W | Payload Capacity :>  300 lbs |
| Phone App :>  iOS, Android | Bike Weight :>  62lbs |
Ride1UP 700 series found its way to our best electric bikes list because they packed this much value into an electric commuter bike. Some of the names and numbers that kick off the spec sheet to us, a 720Wh Samsung battery, Tektro dual-piston hydraulic brakes 750W motor with 60 nm of torque, 100mm travel suspension fork, an 8-speed Shimano Acera drivetrain and Schwalbe SUPER MOTO X 27.5×2.4" tires.
Not to mention they toss in all the typical trappings one hopes to find on a commuter with integrated lights, fenders, and a sturdy rear rack for your panniers. It feels like a bit of a steal considering that most affordable full-package commuters cost $200-300 more.
Pro's & Con's of Ride1UP 700 series
♦ Positives
Its not look like a commuter, but with its parts package, it offers all the features of a proper commuter at a great price
The 100mm suspension fork is more than many commuters offer making
The balloon tires have a great feel and roll comfortably
This is a pretty speedy e-bike but never feels overly power
The 720Wh battery offers enough range for multiple days of commuting without a rush to charge
♦ Negatives
It's a hill climber on PAS, but throttle only power struggle on steeper hills.
It has a little more assembly than some other DTC e-bikes, but the instructions are pretty detailed and easy to follow.
4> Rad Power Bikes The Rad City 5 Plus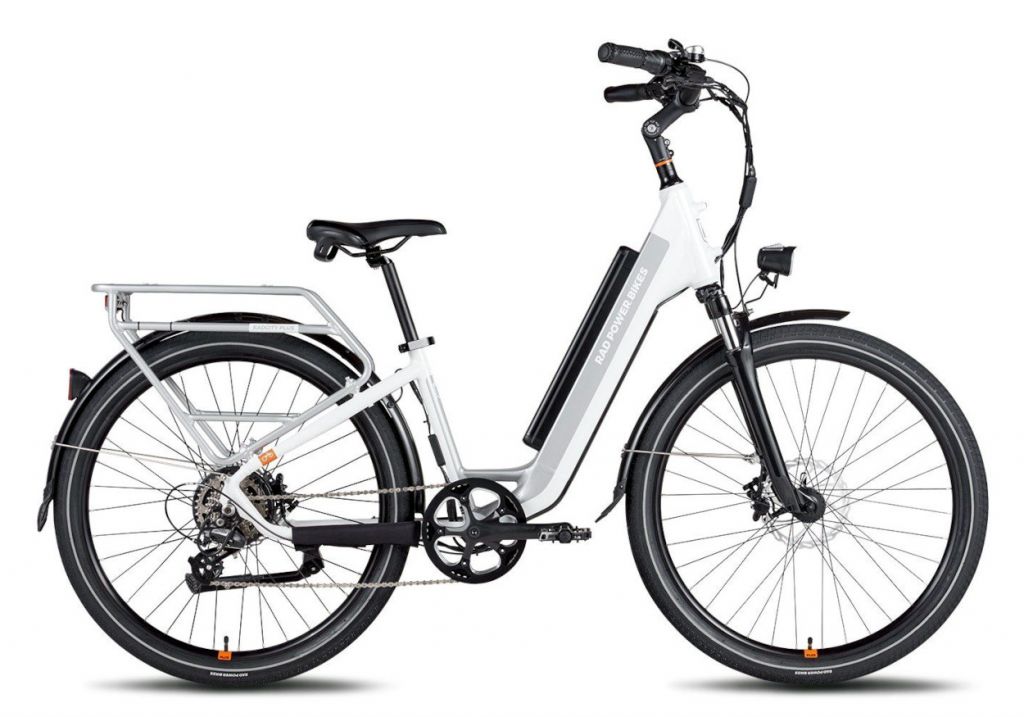 | | |
| --- | --- |
| Price :>  USD 1,999 | Range :>   Up To 55 Miles |
| Top Speed :>   28 MPH | Tires :>   2.4" Fat Tires |
| Motor Power :>  750W | Payload Capacity :>  275 lbs |
| Phone App :>  iOS, Android | Bike Weight :>   65 lbs  with battery |
The perfect combination of practical utility and ideal innovation. Rad Power Bikes really overhauled the latest iteration of their uber-popular commuter. The RadCity 5 Plus came equipped with a new parts with a freshly redesigned look. Rad swapped an exterior battery pack for a semi-integrated, frame-mounted battery. The modern paint job on a classic dutch-styled bike is a marriage that works quite well too. Rad also employed the use of a dual display set-up we rarely see which breaks up the information in a good way.
Powering the bike is a 672Wh battery and a 750W geared rear hub motor. Rad has dialed in the electronics to smoothly engage while riding and keep the rider comfortable and in control. Not only does it roll well, but it stops well too. We tested both the step-through and high-step versions of the RadCity Plus' frame and in both brake tests the RadCity was among the top performers in bikes we've ever tested. The NUTT hydraulic disk brakes with 180mm rotors perform very well and seem like the right spec choice.
Add in the 59.5 lbs capacity rear rack, 50 mm suspension fork, fenders and front and rear integrated lights and this e-bike will check nearly all the boxes on your commuter wishlist.
Pro's & Con's of The RadCity 5 Plus
♦ Positives
672Wh is huge battery for commutes, and it looks great on the bike.
The Rad Power Bikes branded tires also performed well.
The handling is more stable and predictable.
The 750W motor will perform a good job for you day in and day out.
It's currently in the top-tier of our brake tests.
♦ Negatives
The concept of two displays is very good, but the LEDs on the left-hand display are hard to read in sunlight.
The looks were upgraded, we feel some well ordered cable management would have been nice.
5> Himiway Cruiser
| | |
| --- | --- |
| Price :>  USD 1,399 | Range :>   Up To 60 Miles |
| Top Speed :>   25 MPH | Tires :>   4" Fat Tires |
| Motor Power :>  750W | Payload Capacity :>  350 lbs |
| Phone App :>  iOS, Android | Bike Weight :>   72 lbs |
Almost all e-bike manufacture produce a wide range of models. In there line-up they have a commuter, a cruiser, an all-terrain model and may even have a cargo e-bike. Himiway has gone a slightly different direction. Every one of their e-bikes sports fat tires at least 4 inch wide, making the comfortable ride of a fat bike a signature part of their appeal.
Himiway provide four fundamental areas on nearly all of the bike in their line-up, the bikes are big, fast, provide all-day battery life, and they don't break the bank. The heavier a bike's payload both rider & load, the more power is required to move the rider. Having an exceptionally sizable battery delivers a rider some reassurance that they can do a full commute and not worry about running out of battery.  840Wh battery is unexpected on bikes going for less than USD 2000.
The main thing of a Himiway bike is the motor hits the pavement fast and hard. The larger batteries enable the programming to hold little back as there is huge battery to draw from, so when the bike promises class three speeds, it will get there regardless of how heavy a rider or payload on the bike is. It's quicker than most on hills too.
Wider tires you find more stability and comfort, and the 26 X 4 inches tires are huge wide. They include lights and a rear rack to make the Himiway Cruiser as versatile as possible. It makes for a pretty killer value on the bike all around.
Pro's & Con's of Himiway Cruiser
♦ Positives
It is a very powerful e-bike, many e-bikes can get you to the same speeds, but this one has a lot of acceleration off the line.
350lb payload capacity limit is much higher than, we mostly see bikes rated for, and the motor still seems to work well for larger riders too.
840Wh battery makes for very long rides, even in higher PAS riding.
The bike feels pretty stable all around – it handles well especially for the higher speeds it produces.
Multifunctional LCD Display provide odometer, speedometer, wattmeter, battery capacity etc.
♦ Negatives
It's not the least and not the best either. It take a couple of cranks on the pedals for PAS to kick in especially after engaging the motor cutoff on the brakes.
While speedy bikes can be fun, we wish we saw a little more dialed back speeds in lower PAS settings.
6>  Blix Aveny Skyline 
| | |
| --- | --- |
| Price :>  USD 1,699 | Range :>   Up To 45 Miles |
| Top Speed :>   25 MPH | Tires :>   2.25″ Fat Tires |
| Motor Power :>  500W | Payload Capacity :>  270 lbs |
| Phone App :>  iOS, Android | Bike Weight :>   56.5 lbs with battery |
The Blix Aveny Skyline is not the lowest step over height of any bike we tested. So why is it taking the crown on the step-through category of our best e-bikes list? Because it balances frame rigidity with ease of access. The top tube is low enough for most but the fact that it's still there is important for the bike's ride quality. You won't notice the wallowy or flexy ride that so often plagues step-through e-bikes, which is confidence-inspiring in corners and when you're looking to ride it for years to come.
It's fast rolling nature makes the Blix Aveny Skyline a very efficient e-bike, it really doesn't need much energy to get it rolling and keep it rolling. That fact, paired with the 614Wh 48V, 12.8Ah battery, makes for an e-bike with an impressively good range on a single charge.
This e-bike is easily accessible and beautifully simplistic to ride. It resides within the small category of e-bikes that feel remarkable to ride without any motor assistance. The 500W motor,  614Wh battery pair nicely with seven speed gear range is a good combo for you to find your ideal cruising speed. It's comfortable orientation, the Blix Aveny Skyline is inviting and reachable for those who may be concerned with throwing a leg over a traditional diamond frame.
Pro's & Con's of Blix Aveny Skyline
♦ Positives
This e-bike absorbs road vibrations and bumps nicely. The ride is notably smooth for a bike with no suspension.
Unconsciously of the color you pick, they all remind me of classic cars color choices.
Having 500W motor and seven gear range is a good combo for you to find your ideal cruising speed.
Keeping the top tube while making it a step-through frame gives you the best of both worlds: easy access and good frame integrity.
Bike feels very poised while riding. It handles predictably, easily and comfortably.
♦ Negatives
There is some rattle noise when you speed up in the metal fenders. It's a notable if you are looking for a silent ride.
It's a bike for all, that should accommodate between 5'1" to 6'2" and our main reviewer is 6'3" and felt a little bit cramped.
7> Aventon Pace 500.3 ST
| | |
| --- | --- |
| Price :>  USD 1,799 | Range :>   Up To 60 Miles |
| Top Speed :>   28 MPH | Tires :>   2.1″ Fat Tires |
| Motor Power :>  500W | Payload Capacity :>  300 lbs |
| Phone App :>  iOS, Android | Bike Weight :>   52 lbs |
When shopping for an e-bike, seniors have different priorities than younger folks. The concerns we hear repeatedly are, something that has a step-thru frame with low stand over to make getting on and off the e-bike easy, an upright seated position that is easy on an old neck and calm handling for reflexes that are not quite so quick as they used to be. It never hurts to find all this in an affordable package, which is why we named the Aventon Pace 500 in its step-thru design as our favorite e-bike for seniors. We appreciate about the Aventon Pace 500.3 ST is the fact that this e-bike weighs less than many comparable models. Suspension forks, big tires, racks, baskets and fenders all add weight to a bike and at 52 lbs.
Its hub motor, 500W brush less is surprisingly powerful and does a great job of delivering a rider up to 20 mph either with pedal assist or throttle. It can also be "unlocked" in the smartphone app to achieve Class 3 performance, something its 8-speed Shimano drivetrain can handle. The Aventon Pace 500.3 comes in two different frame designs, both a traditional frame and a step-thru and both versions are available in two sizes. For seniors who have lost flexibility, finding a bike that is comfortable is important and with four choices, they are more likely to find a size that is comfortable. The adjustable stem is a great touch for dialing in the reach.
Pro's & Con's of Aventon Pace 500.3
♦ Positives
The color display go with app make for a rich experience
Reduced weight, torque sensor and integrated taillights these updates to the Pace 500.3 ST make a great e-bike even better.
The battery is super efficient delivering up to 68 miles in our testing.
Name brand components from Shimano and Tektro reinforce the quality presentation
At 52 lbs. it is relatively light for an e-bike, and works on most any hitch rack
The rider position is very comfortable, combining the upright position of a cruiser and the easy pedaling of a commuter
♦ Negatives
Bigger riders may find the short reach to the handlebar to feel a little bit cramped, although it can be adjusted
8>  Ride1UP Revv 1
| | |
| --- | --- |
| Price :>  USD 2,395 | Range :>   Up To 30-60 Miles |
| Top Speed :>   20-28 MPH | Tires :>   4″ Fat Tires |
| Motor Power :>  750W | Payload Capacity :>  350 lbs |
| Phone App :>  iOS, Android | Bike Weight :>   92 lbs |
Moped style e-bikes are all the rage these days, and the market is jam-packed full of models spanning every imaginable price point and power level. This smash hit of an e-bike is freaky fast, ferociously fun, and fully functional as an electric vehicle. It's a Class 2 e-bike with a 750W rear-hub motor and a throttle to carry you up to 20 miles per hour, but with some help from Ride1UP, it can be loosened up to Class 3 mode for faster pedal-assisted travel on the streets, and fully unlocked for even greater speeds on private property. As well, it comes equipped with lights, turn signals, fenders, and even an electronic horn.
We acknowledge that many riders will opt to near-exclusively use the bike's throttle, but the Revv 1 surprised us by ease with which it can be pedaled. Regardless of how much speed and motor input you desire, the bike uses a cadence sensor for a smooth and casual ride that just needs the pedals to be in motion for the motor to pump out its power. Also this bike comes in two trim packages with different price points to meet your needs and budget both under $2,500. With so much packed into such an affordable e-bike.
Pro's & Con's of  Ride1UP Revv 1
♦ Positives
The Revv 1 nails the moto-inspired ethos, it looks cool, and is an absolute blast to ride
The handling is superb. We have tested feel so stable at speeds up to 28 mph
Hallmark Ride1UP value. Great value in terms of the dollar you pay and what you receive
Solid range going between 30-60 miles in our testing, and we hear a dual battery option is on the way too
♦ Negatives
The tires offer good puncture-resistance, but if the rear gets a flat it's more labor-intensive than most to fix it